How to Refresh Your Home With Chic, Farmhouse Decor For Spring
How that you can put away your rustic farmhouse christmas decor, and spring is almost upon us, it means it's time to refresh your home to reflect the change in seasons. Lighten things up after a long winter with farmhouse spring decor that is cute, cozy, and totally you. Why do we love farmhouse-inspired decor? Farmhouse living celebrates comfort, coziness, and that special personal touch. These unique home decor items are also easy to integrate into your current home, and you can find amazing rustic-chic pieces at affordable prices to help you transform your home in no time at all.
The decor experts at Miller St. Boutique are excited to bring you our favorite ideas for rustic spring decor!
Our Favorite Farmhouse-Inspired Spring Decor!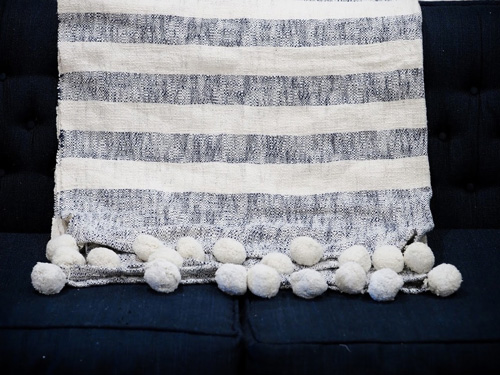 Lighten Up Your Textiles
Mark the transition from winter to spring with textiles, blankets, and unique throws that feel lighter than your thick, winter blankets. Trade out heavy materials like wool for light cotton blankets and throws, which will keep you warm on cooler nights but will help evoke that charming farmhouse spring decor look. We love this lightweight, cute cotton throw trimmed with pom-poms for a whimsical yet sophisticated option. Drape it over a sofa or favorite chair for an instant transformation!
Dress Up Your Entryway
If you're anything like us, your entryway is full of heavy winter boots and coats during the colder months, but with spring upon us, we finally have space to incorporate all of the amazing farmhouse spring decor elements we've been craving! Add a new mirror that helps amplify spring's natural light or bring home a stunning potted plant or terrarium to greet guests when they walk in the door. If you have a hallway table, decorate it with a pretty vase or topiary arrangement that makes your home feel both inviting and unique. One final tip—an umbrella stand may come in handy as you weather those May showers, but luckily there are some super adorable options on the market.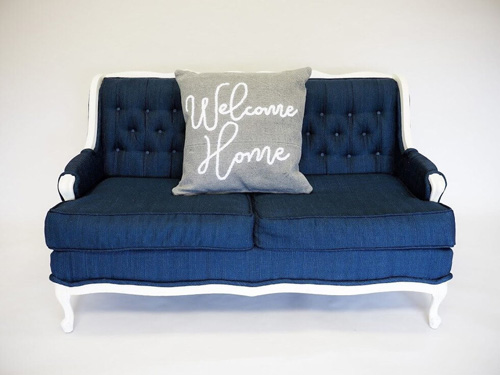 Incorporate New Pillows
Switching up your boutique throw pillows is another quick-and-easy way to get that rustic spring decor you crave. Swap moody, darker hues and jewel tones for pastels or neutral colors like white and taupe for a sunnier, warmer color palette that will transform any room in a flash. We love a pillow with sweet, playful messaging as a way to signal the change from winter to spring.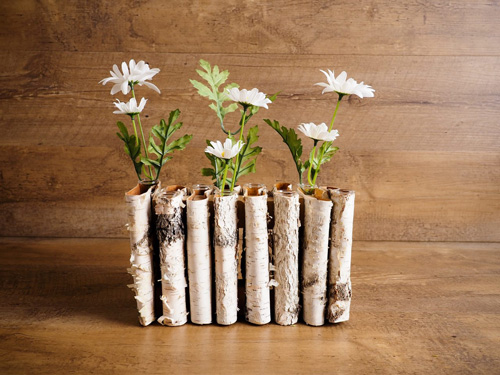 Bring The Outdoors In
As the weather changes, you'll be able to take advantage of all the fresh spring blooms that are available this time of year. You'll be amazed at how quickly a few arrangements of fresh flowers or cuttings from your garden can help enliven your home. Get that rustic spring decor look with pretty vases, like this sweet birch bark style, or get true farmhouse chic with a distressed milk can vase that will show taller flowers beautifully.
Add Welcoming Accents
Rustic spring decor is all about those extra little touches that make a house feel like home, so why not seek out a few cute home decor items that add a smile to your face? Quirky and cute trays make any tabletop feel a little more special. For spring, we also like the idea of incorporating details like new candlestick holders in rustic materials like wood, and a fresh boutique candle to perk up all of your senses and clean out that stale winter air!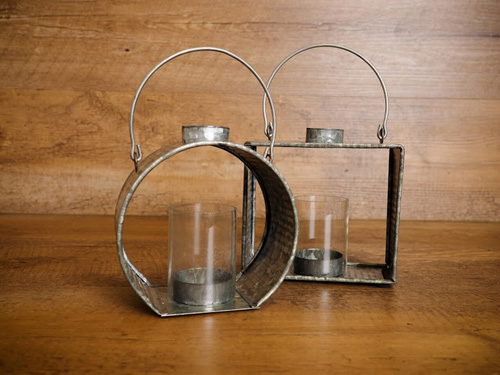 Enliven Outdoor Spaces
If you are lucky enough to have a porch, patio, or deck, treat it with the same care and attention you would your indoor spaces to help it look and feel more like home this spring. We love adding a few lanterns that will give off an ambient glow in the evenings, and materials like tin definitely convey that rustic spring decor vibe. Add a few strategically placed outdoor candles for your tabletop, and you'll have a totally gorgeous place to spend those pretty spring nights!
Add Some Cheer to Your Kitchen
It is easy to overlook the kitchen when it comes time to refresh our decor for spring, but the kitchen is actually one of the easiest rooms to makeover! Consider adding a new, brightly colored fruit bowl to dress up your countertops (vintage items and thrift store finds can definitely help you achieve the farmhouse spring decor style) or some pretty patterned tea cups and mugs. You can also give your kitchen an instant refresh with new tablecloths, placemats, and tea towels — plus, they are functional to boot!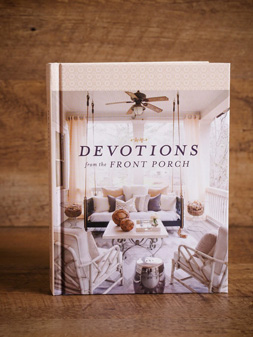 Books That Inspire
We love coffee table books as a way to give a home that lived-in farmhouse spring decor feel. Consider a lovely book of Devotions meant to inspire introspection and help you enjoy your home like the comforting refuge it is. We offer books of Devotions From the Front Porch and Devotions from the Kitchen Table to help you feel inspired and grateful in your home every day. They look beautiful as a part of a stack of favorite books, and your guests will enjoy leafing through them over a cup of tea or coffee.
Shop Farmhouse Spring Decor and More
Miller St. Boutique is proud to offer a unique assortment of home decor items to our customers, along with our curated selection of women's boutique clothing, Oak River purses, and unique accessories. All of our offerings are hand-picked by our owners, so we can guarantee the quality of each piece, whether its a cute top for spring or an amazing candle for your living room. Shop everything you need for spring at Miller St. Boutique and receive a free, special gift with your order!