Make Chip & Joanna Proud: Modern Farmhouse Interior Design Ideas For Your Home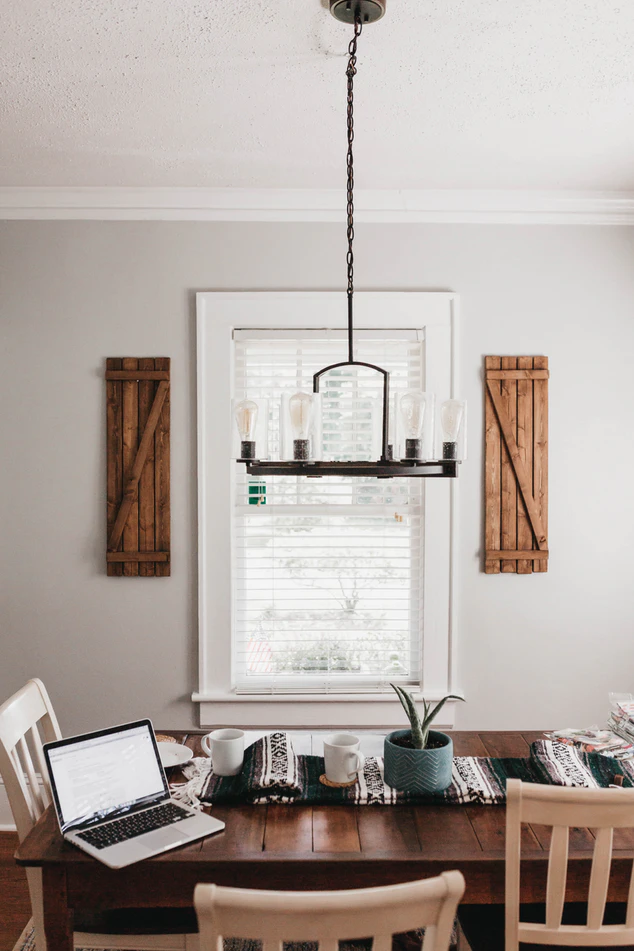 If you've watched episode after episode of HGTV's Fixer Upper, you're probably officially obsessed with farmhouse home accessories & decor. Joanna Gaines' farmhouse chic style celebrates rustic roots but updates the look for the modern world. The result is a picture-perfect home that feels warm and comfortable but looks stylish and elegant.
More important than the appearance, a farmhouse chic look adopts a style that is also totally accessible. With a few simple DIYs, a focus on wood, and some farm-friendly basics, you can embrace a modern farmhouse interior design in your home. Ready to make Chip and Joanna proud of your farmhouse home decor? Keep reading for our tips on how to make your home farmhouse chic!
Our Favorite Modern Farmhouse Interior Design Ideas
Barn Doors
Farmhouse chic sounds trendy and elegant, but there are plenty of traditional farmhouse home decor items included in this style. One must-have addition to your modern farmhouse interior design is a barn door. This sliding door differs from a normal entrance by hanging from the wall and sliding back and forth to open and close your space. While it's a simple adjustment, it adds a sense of character to your home, pulling in a farmhouse style with a functional and modern twist.
An Apron-Front Farmhouse-Style Sink
Much like a barn door, an apron-front sink is a necessary element of a stylish country kitchen. A well-recognized item in farmhouse home decor, the apron-front sink has an exposed front-facing side. Instead of a separation in the middle, this sink boasts one large opening to wash dishes, fill pots and pans, and complete anything else you might need to do in your kitchen sink. Most apron-front sinks used in a modern farmhouse interior design are white, keeping in line with the generally bright appearance of a farmhouse chic home. While using this sink may take a bit of adjustment at first, this simple change seamlessly adds that rustic style you've been searching for.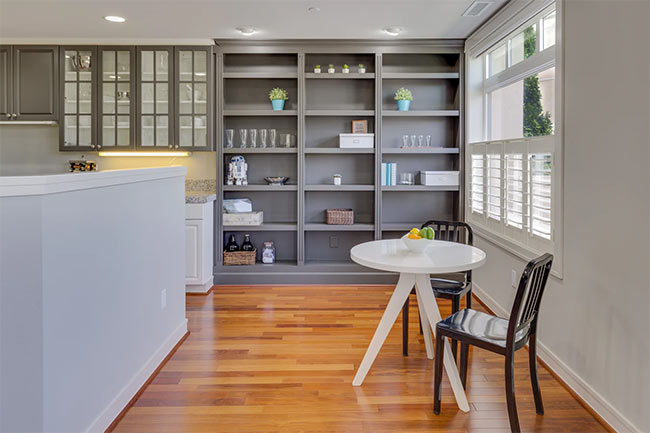 Painted Cabinets
This next tip is a little tricky to perfect. In older, rustic-style homes, finding painted cabinets is pretty much a certainty. However, piling on the color in your kitchen will quickly transform your space from chic and stylish to gaudy and ostentatious. Painted cabinets are a beautiful addition to farmhouse home decor, but only if they're used properly. If you want to paint your cabinets, focus your efforts on a specific section. Painting only your bottom cabinets or only the cabinets on your kitchen island adds that beautiful color to your space without overwhelming your design. Choose soft, mellow colors for your painted cabinets, allowing them to stand out without clamoring for attention. If you can accomplish this detail expertly, you'll definitely take your modern farmhouse interior design to the next level.
White Everything
Beyond the addition of painted cabinets, farmhouse home decor focuses on white, white, and more white. The goal of this style is light, bright, and beautiful -- and white is the perfect way to accomplish that! No, your house doesn't have to be completely colorless and sterile as a hospital room; however, much of your larger pieces should be white. Using this bright, neutral color, you create the perfect canvas for your home. Once you establish a white foundation, you can build your color scheme while maintaining the light and airy look typical of farmhouse home decor.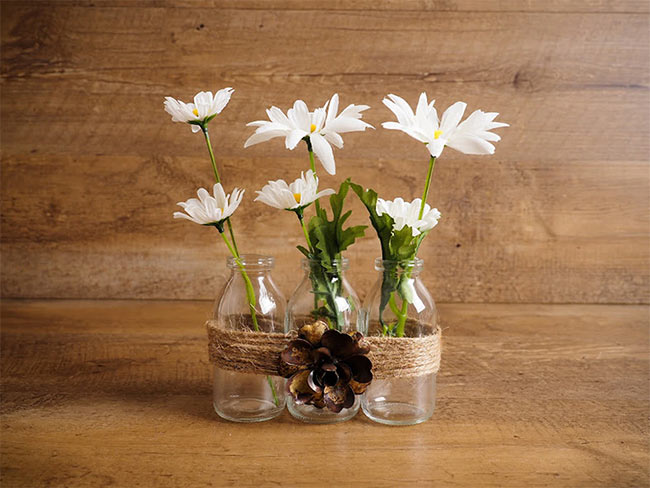 Mason Jars
Mason jars are effortlessly simple but perfectly rustic in their look. A favorite for rustic weddings, mason jars are also the perfect choice in farmhouse home decor. Place mason jars around your kitchen to store utensils, supplies, pasta and other dried goods, or even pencils and pens. Use mason jars as candle holders or vases for a look that's less functional and more decorative. Of course, you can still use your favorite boutique candles, but adding mason jars to your home decor is an easy way to embrace a modern farmhouse interior design.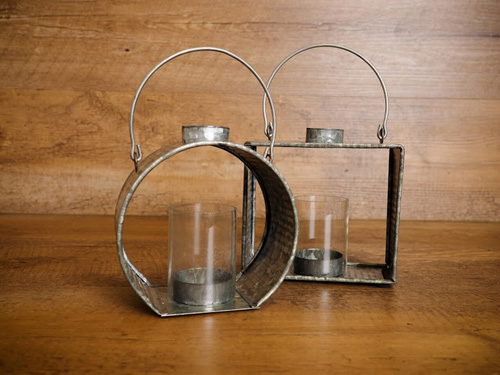 Worn Finishes
Perhaps the most important element of modern farmhouse interior design is the use of worn finishes. A farmhouse chic look is perfectly imperfect. Chipping paint, weathered-looking pieces of furniture, and other distressed elements in your farmhouse home decor give it the laid-back style you're craving. You can always soften up your space with unique pillows and throws, but the majority of your furniture should look rough and well-worn to truly accomplish a farmhouse chic design.
Shiplap
A favorite choice for nearly every Joanna Gaines farmhouse chic design, shiplap is the best way to take your rustic design to the next level. This style creates textured walls by layering one board over another for the entire length and height of your space. Not only does it add interest to your home by creating a subtle statement wall, but it also makes it look like you're actually in a farmhouse. What better way to embrace modern farmhouse interior design?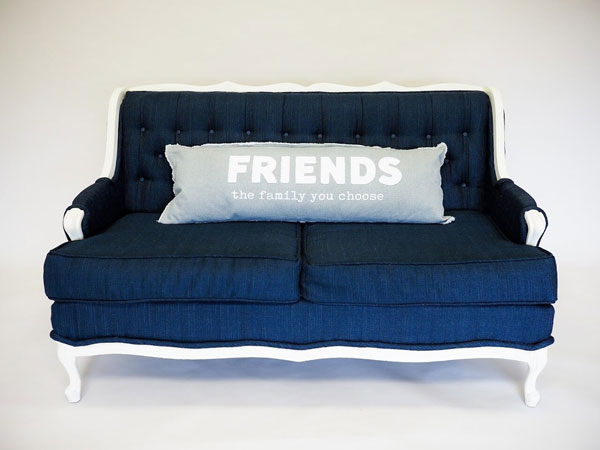 Mix-and-Match
Last, but certainly not least, don't be afraid to mix-and-match with your farmhouse home decor. Modern farmhouse interior design isn't meant to be flawless and perfect. Instead, it's supposed to incorporate unusual pairings and strange home decor elements. Shop your favorite flea markets and choose knicks knacks that you like to act as rustic home decor items. Pair interesting pieces of furniture together to create an unconventional set. Shop home sales to fill your space with quirky items. These and more home accessories build on the foundation of your design, incorporating your farmhouse chic style into every element of your home.
Ready to transform your space into a replica of your favorite Fixer Upper house? Shop Miller St. Boutique today for beautiful and unique home decor! Our vintage and antique-inspired items will put the finishing touches on your farmhouse chic look. Browse our collection today to find pieces that will inspire your modern farmhouse interior design and don't miss this chance to add to your collection of farmhouse home decor!