Introducing Our Plus Size Curvy Corner Boutique Collection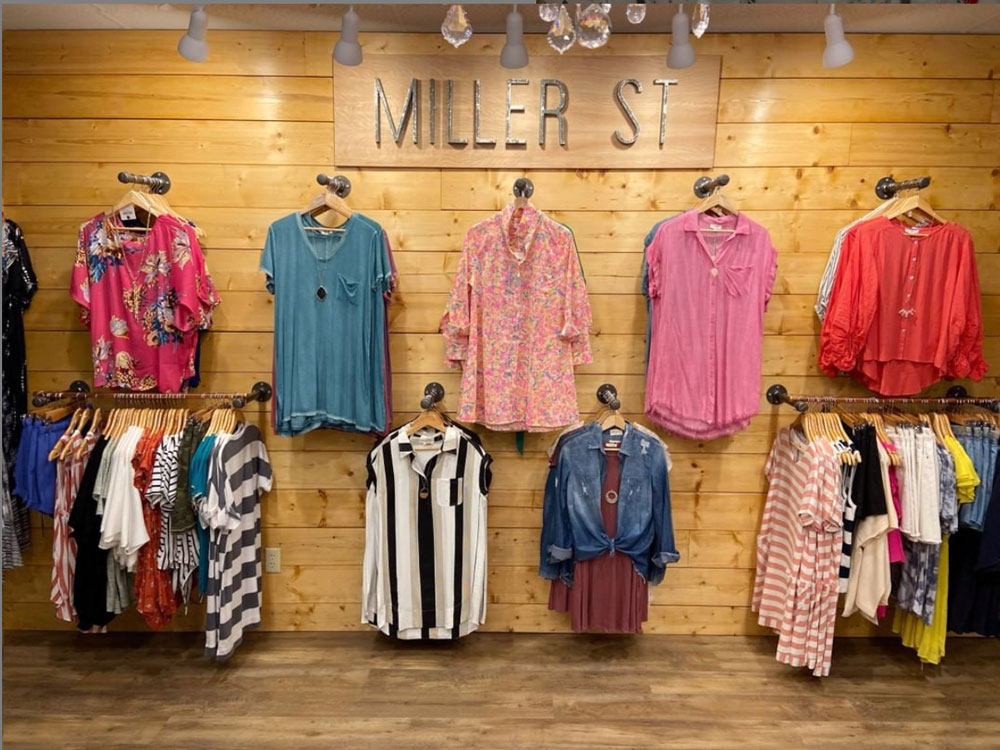 Looking for boutique plus size clothing? You've come to the right place! Miller St. Boutique has long been committed to providing size-inclusive, boutique clothing styles from 1X to 3X that help make every woman look and feel her best. Now, with our new plus size Curvy Corner boutique collection, we are offering a designated section of our site to explore our latest looks in plus size fashions. From date nights to evenings out with girlfriends and casual workday (and weekend!) styles, we've got everything you need to start and end each day in style. Read on to learn about some of our favorite curvy girl looks!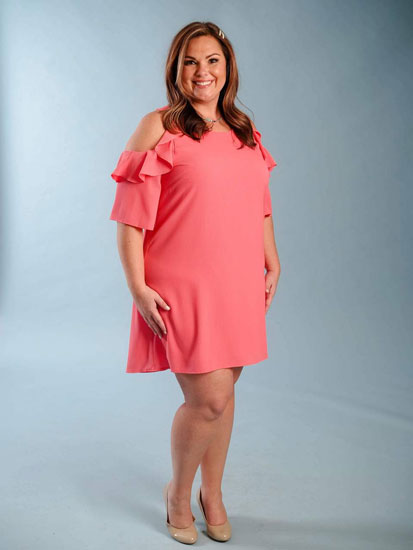 Plus Size Boutique Date Night Dresses
Every gal needs a fabulous go-to date night dress in her closet for those occasions that require a little something special. That's why we've made it a point to stock our boutique plus size clothing selection with lots of pretty and feminine night out styles. We adore this cold shoulder dress for a little summer and spring outfit inspo: the color is flattering for a variety of skin types and the ruffles are a fun and flirty detail that is perfect for romantic candlelit dinners, weddings, and any other special occasion on your calendar.
Pair it With: Add a little sparkle with some gorgeous unique dangle earrings! These silver circle drop earrings will help emphasize the cold shoulder cut of this dress while drawing attention to your gorgeous face. A pair of crystal statement earrings is another way to bring some major glamour to this look.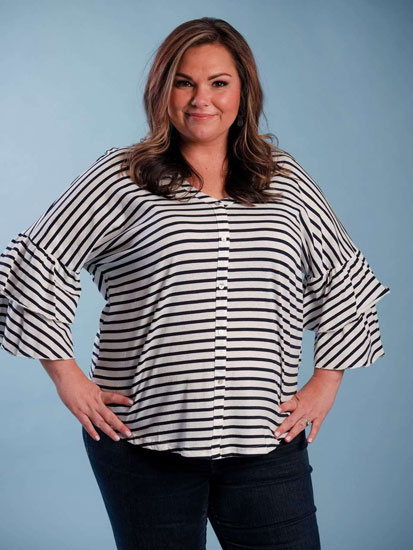 Casual but Cute
When it comes to plus size boutiques, it's crucial to have a variety of styles that can take you through every moment of your week. That's why we made sure to include plus size boutique clothing in casual but trendy styles. After all, what's better than getting ready in a flash AND looking great at the same time? These comfortable casual styles, like our sweet striped top with bell sleeves (which looks amazing paired with our boutique skirts), are designed to make you feel like you and accent your figure with flattering silhouettes and chic details.
Pair it With: Rock your favorite casual looks with those beloved slip-on sneakers or sandals for a great everyday look. Need to look extra cute in a hurry? Top your look off with an adorable boutique hat that is great for anything from running errands to brunch with your girlfriends.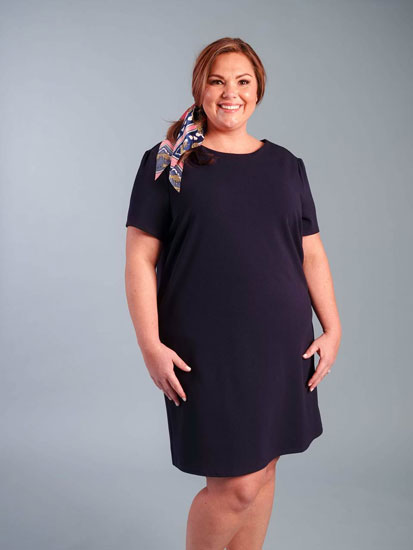 Timeless Staples
The ideal wardrobe contains a little bit of everything: bright colors and fun patterns, as well as tried-and-true staples that you know you can dress up or down depending on the occasion. For boutique plus size clothing, we simply love a t-shirt dress that looks amazing paired with slide-on sandals or heels (depending on your mood!) Rock your fav casual boutique dresses with a drawstring military jacket (featuring a figure-flattering drawstring waist) for a polished head-to-toe style.
Pair it With: Dress up your staples with an amazing necklace—great for those times when you need a look that will take you from daytime to happy hour. Explore unique boutique necklaces like this gorgeous gold and gemstone piece for a wonderful statement accessory, or try a dainty layered necklace that adds that perfectly subtle hint of shimmer without being too much.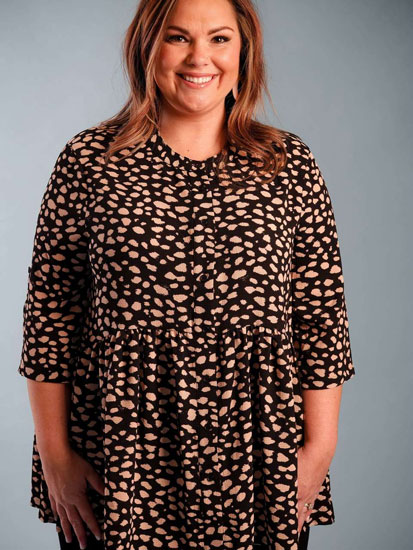 Working Girl Chic
With our boutique plus size clothing, you'll never spend your mornings stressing over the perfect work outfit again! Nail that big meeting or impress at that important client lunch with our work-ready pieces that are sophisticated and flattering for your body. This button-down tunic is equal parts pretty and polished, and our drop shoulder dress looks incredible worn on its own or layered with your favorite blazer and heels for a total girlboss effect.
Pair it With: Every busy woman needs a dependable bag in her life to hold all of her workweek essentials (and snacks, duh!). Compliment your favorite items from our plus size boutiques with a roomy leather tote that is simple-yet-distinctive. A boutique handbag in neutral hues is another great option for your office commute -- and it will match everything in your closet!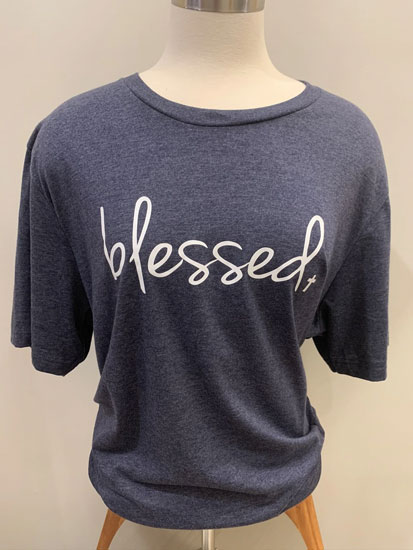 Sassy and Sweet Tees
Express yourself and what's on your mind, in style, with our plus size graphic tees! Long a Miller St. favorite, we've extended our selection of boutique graphic tees to our boutique plus size clothing collection. Whether you're feeling sweet, sassy, or something in between, we have tees that are both cute and fun to wear—as well as tailored to flatter your curves. Brag about your favorite fur baby, evoke cool vintage vibes, or celebrate your blessings with these charming shirts in women's plus sizes.
Pair it With: Add that extra finishing touch with a unique, multilayer bracelet for an easygoing-yet-eye catching accessory. You can also top off your tee with a cool plus size camo jacket for the perfect weekend ensemble.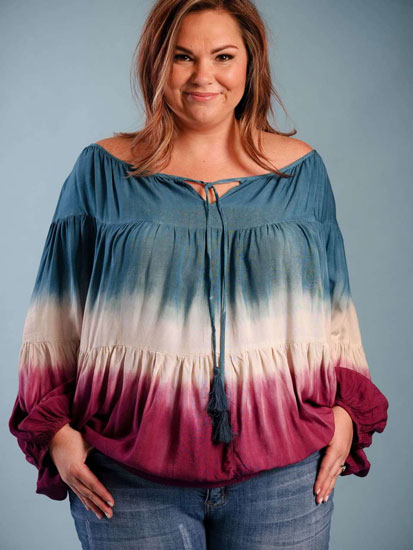 Boho Favorites
Boho styles are an amazing choice for all body types, including curvy women. These flowy plus size boutique styles still have just the right amount of structure to show off your figure, while still looking totally on-trend and stylish. This lightweight tie-dye blouse is bound to look amazing with your favorite leggings or jeans, while a wide sleeve boho cardigan is a wonderful way to top off your favorite dresses, skirts, and tees while adding a little bit of free-spirited personality.
Pair it With: Boho boutique plus size clothing looks great when worn with 60s and 70s-inspired accessories, like a super cool leather bucket bag with fringe details or a leather boutique crossbody bag. The neutral colors will help balance the bright hues and patterns of your clothing for a perfectly calibrated boho-chic look!
Shop Online or In Person
Miller St. Boutique is proud of our reputation as one of the best plus size boutiques you'll find anywhere, with all of the sizes you need in styles you'll fall head over heels for. In addition to our hand-picked boutique plus size clothing, we also offer unique home accessories, thoughtful boutique gifts, and handmade beauty and skincare products for a one-of-a-kind shopping experience. Explore our entire collection of curvy women's clothing to get free shipping on orders +$75, or visit us in person at our Fairfield, Ohio, brick-and-mortar store to say "hello!"
Don't forget to catch us live on Tuesdays through Instagram and Facebook for exclusive new looks at our latest new pieces and upcoming promotions!