How to Wear Graphic Tees to Work (And Still Look Like a Boss!)
Love graphic t-shirts? You're not alone! You probably know all about how to wear graphic tees on the weekends or in your time off, but to truly max out your wardrobe, you'll want to consider how to wear graphic tees to work, too! With the right styling, you can pull off almost any graphic t-based outfit for a chic office-ready style that has just the right amount of personality. Read our best tips for how to dress up a graphic t-shirt on the Miller St. Boutique blog today!
Our Tips For How to Dress Up a Graphic T-Shirt (and Style Look Trending & Stylish!)
Start with The Right Tees
If you're going to wear a graphic top to work, make sure it is something that is stylish, fits well, and doesn't feature any potentially offensive or inappropriate messaging to avoid striking the wrong tone. Not just any style will do — if you're building the rest of your outfit around your tee, it should be pretty and chic as well as comfortable! When it comes to how to wear graphic tees, start by shopping for boutique graphic t-shirts that have been designed with care and attention to detail, including interesting hemlines, flattering necklines and draping, visually engaging fonts, and attractive colors and prints.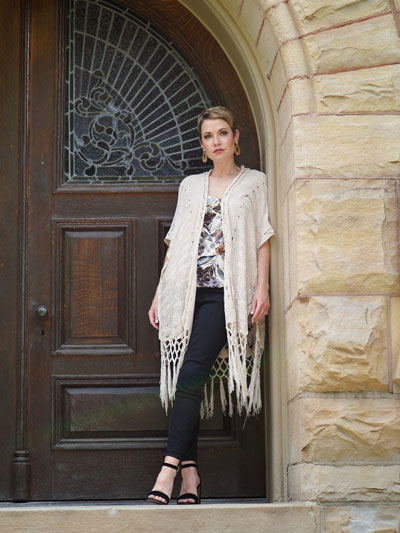 Opt for Layers
One of our go-to strategies when it comes to how to wear graphic tees to work is to layer them with other pieces for a stylish and sophisticated ensemble — that way your graphic tee becomes a cute part of your outfit rather than the centerpiece. With the right layers, you'll look put-together and professional! Consider a well-tailored blazer, a fashionable utility jacket, a feminine ruffled cardigan, or wrapping a cute boutique sweater over your shoulders for a thoughtfully-considered outfit that still feels like you.
Dress it Up with a Skirt
Looking for how to dress up a graphic t-shirt in other ways? Pair a boutique skirt and a graphic tee together to create a cute look with plenty of personality that still looks fresh and focused for your 9-5. Match your favorite tee with a knee-length wool skirt for fall and winter and a beloved pair of mules or ankle boots, and you'll be ready-to-go for that Monday morning meeting. Another option: wear your tee with a pretty pleated skirt for a feminine style that is still totally office appropriate.
Wear With Complementary Tops
When thinking about how to wear graphic tees in an office setting, you'll want to consider the overall vibe of your workplace. At more casual workplaces, you can get away with wearing your favorite tees with a cute gingham or plaid button down for a casual yet office-friendly outfit. For more formal workplaces, you'll want to figure out how to dress up a graphic t-shirt in a way that strikes a sophisticated note. Try an elegant, drapey cardigan or a pretty kimono that will allow you to show off your tee but will keep your outfit feeling balanced and tasteful.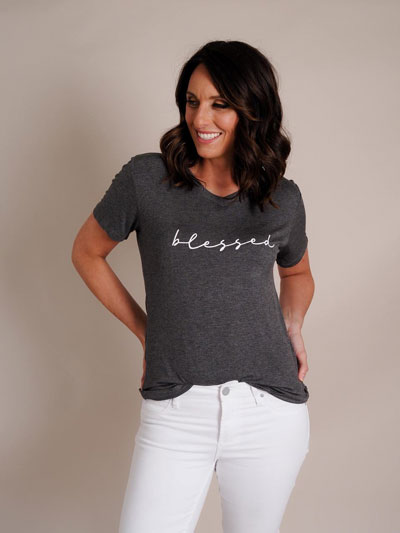 Go for Classic Silhouettes
Another consideration to make when it comes to how to wear graphic tees is your choice of bottoms. A t-shirt is a more casual silhouette, so unless your workplace has a very relaxed dress code, you'll probably want to avoid wearing jeans — that save for casual Fridays!
For the rest of the week, think about wearing your tee with classic pants in solid colors that feel refined and stylish without being too over the top. We love solid high-waisted pants for a classic shape. For a slightly more trendy look, you might want to think about wide-leg pants but be sure to dress them up with a pair of heels or loafers to keep things feeling work-appropriate.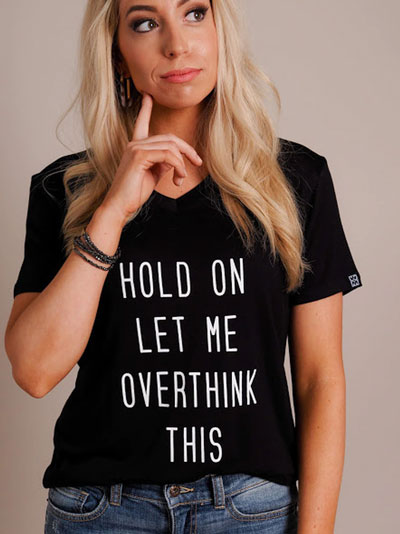 Add Polish with the Right Jewelry
With the right unique jewelry, any graphic t-shirt can look like a million bucks! Wear your t-shirt with a pair of pretty boutique earrings, like hoops or dangle earrings, to add some shine, or choose a well-considered boutique necklace for a little extra sparkle. A metallic cuff, unique bracelet is also a nice way to jazz up your look. Then all you'll need is a swipe of your favorite lipstick and -- voila! -- you're ready to take on your job like a boss.
Get Versatile with a Scarf or Wrap
One thing we love about dressing for winter? The option to wear cute scarves and wraps with every outfit! If you're new to thinking about how to wear graphic tees to work, you might want to test the waters with a well-designed wrap that adds a timeless touch to your ensemble (and keeps you nice and warm all day long!) With a scarf or wrap, you can show off your t-shirt when it feels right and keep things a little more covered up in case an impromptu business meeting pops up!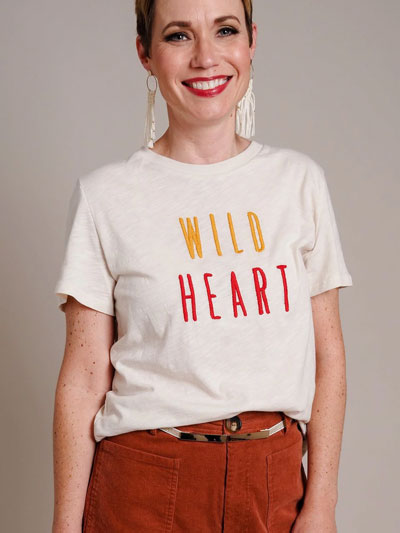 Choose Chic Accessories
If you are basing your outfit on a graphic tee, you'll want to mitigate the risk of looking too casual and informal. How to dress up a graphic t-shirt with ease? Add a thoughtfully designed, sleek accessory, like a beautifully-made, leather boutique handbag that will anchor your whole outfit. This kind of heirloom-quality accessory is both functional and stylish and just adds that perfect finishing touch to your morning commute, client meetings, and after work dinner ensembles.
Shop Graphic Tees and More at Miller St. Boutique
At Miller St. Boutique, you'll find a beautiful selection of hand-picked women's apparel with something for every style. From our fun tees to our accessories, our owners select every item we sell. Whether you want some advice on how to dress up a graphic t-shirt or cozy options for your weekend adventures, we're here to help. Stop by our friendly brick-and-mortar location in Fairfield, Ohio, or contact us for any questions about your online purchases! Shop our favorite graphic tee looks today and get a free gift with orders +$50!