Forever Young at Heart: How to Style Your Favorite Graphic Tops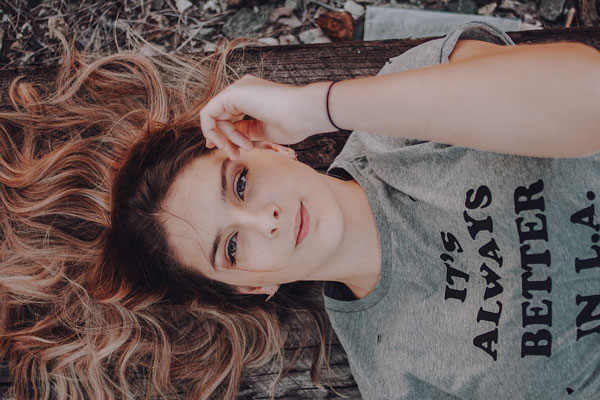 Graphic tops are super fun, no matter your age. From concert memorabilia to thrifted gems, graphic tees let you flaunt your unique personality. What many fashionistas don't realize about graphic tees, though, is that they can be surprisingly versatile. The classic jeans and a t-shirt look is always an easy go-to, but learning how to style graphic tees in other ways can help you change up your look and learn how to bring your tee from boardroom to happy hour with ease!
Try these outside-the-box styles, and don't be afraid to experiment with your own combinations!
How to Style Your Graphic Tee:
1. Tuck or Tie
One of the easiest ways to eliminate frumpiness and get a more form-fitting look is to simply tuck your graphic tops into your jeans, slacks, shorts, or skirt. While there's nothing wrong with a cozy, nonchalant untucked fit, tucking is a great way to bring a sleek and chic silhouette to your cute women's tops.
Another option is the French tuck which is when you tuck just the front of your shirt into your bottoms. You can also tie the front into a little knot for a fun, flirty look. This approach is great when the tee is a little too baggy and you're going for a sleeker shape.
2. Add a Blazer
For a more put-together aesthetic, try topping your tee with a blazer. This approach works with untucked or tucked graphic tops. Try wearing a bold colored and/or patterned pencil skirt with a neutral blazer. Or, switch it up and wear a bright blazer with neutral slacks. Tie the entire look together by wearing a pair of heels or just rock it as is!
3. Roll Your Sleeves
While a boxy look can work for some tees, others may benefit from a simple roll of the sleeves. As you might notice, when it comes to learning how to style graphic tees, getting rid of that extra baggy material is often necessary. Fortunately, tucking or rolling the sleeves of your tee actually looks great, which is why some women purposely buy oversized graphic tops.
4. Embrace Your Rocker Side
Going all-out rocker is one great tip when thinking about how to style graphic tee. This look works especially well with your favorite band shirts. Start with a pair of jeans or leather pants. Now for footwear, you can't go wrong with leather boots, but a pair of Chucks or other casual sneakers will work too.
Now that you've got the basics down, it's time to accessorize! Try wearing chunky, flashy statement jewelry, teasing your hair, and going a little heavier on the makeup. Some smoky eyeshadow can give it a goth touch, or try some bright red lipstick for more of an '80s rocker vibe. All is fair in rock-and-roll, so don't be afraid to experiment and let your personality shine through!
5. Break Out the Denim!
Graphic tops scream summer. If the weather allows, the perfect complement to a graphic tee is a pair of jean shorts or your favorite go-to boutique jeans. Pair your outfit with a pair of your favorite casual sneakers and sandals, and you're good-to-go. This fast-and-easy look works great with any just-got-out-of-bed hairstyle, or complete it with your favorite baseball cap.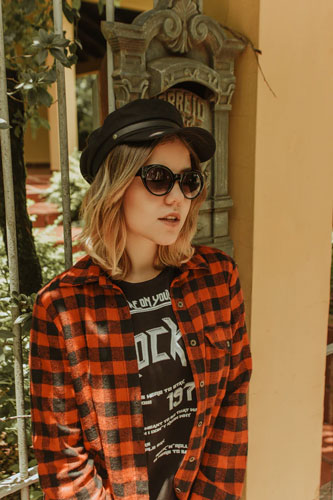 6. Layer with a Cardigan or Flannel
One of the best things about graphic tees is that they make a great focal point for more elaborate outfits. Try layering a cardigan or flannel over your graphic tops for a laid-back '90s grunge vibe. You can leave the top layer unbuttoned to show off the tee's design, or just let it peek out for a more subtle look.
7. Bust Out the Leather Jacket
If you're interested in how to style graphic tees, try taking a cue from biker culture. Leather and graphic tees work great together, especially if you're going for an edgier style. A pair of tight jeans with a motorcycle jacket looks tough, but you can also pair your outfit with a red lip and cat-eye for a more feminine look!
8. Create a Theme
Use the design of your graphic tops for inspiration. Does the image have lots of green? Pair it with a pair of black pants and choose shoes and accessories that bring out the pops of green. You can make an outfit more cohesive by accessorizing with the same colors—just make sure you don't overdo it. You want the outfit to work as a whole without looking monochrome.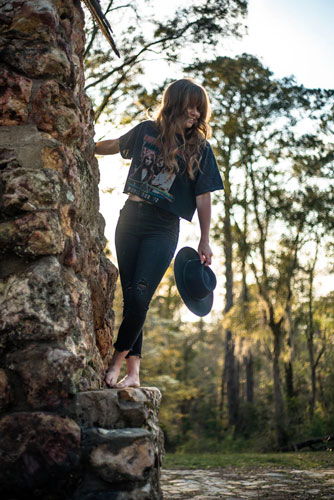 9. Soften Your Tees
Well-worn vintage tees are pure magic. Wouldn't it be nice if there was a way to get that ultra-cozy feel without waiting a few decades? There is!
Fill a bucket with one quart of warm water
Add ½ cup of table salt
Stir it up until all the salt is completely dissolved
Soak your shirt for three days
Wash, dry, and enjoy
It's that easy!
10. Keep it Simple
Learning how to style graphic tees may take some trial and error. If you're still just testing the waters, there's nothing wrong with letting your tee be the star of the show. Because graphic tops tend to be pretty bold, you may want to keep the rest of your outfit neutral. Black jeans go wonderfully with graphic tees—it's a straightforward, utilitarian look works no matter the situation.
Shop the Best Graphic Tees Now
Styling graphic t-shirts are easy. They're super forgiving, and fun is really the bottom line. The real challenge is finding graphic tees you genuinely want to wear! That's where Miller St. Boutique comes in. Whether you're looking for a band shirt or something with a sassy saying, we have something you're bound to love. Shop graphic tops in our boutique clothing collection, or contact us if you have any questions!