How to Build Your Perfect Fall Capsule Wardrobe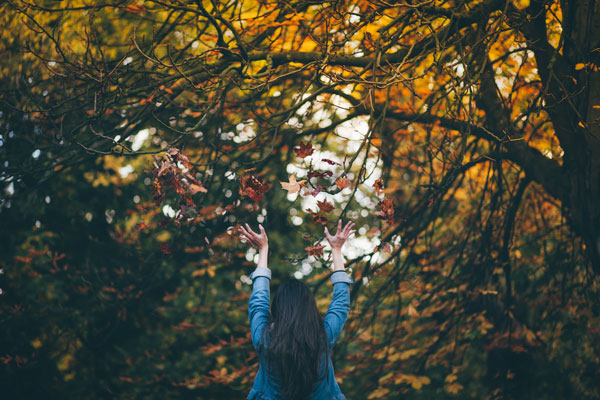 Fall is such an exciting season when it comes to unique, fun, and comfortable fashion! It's one of our absolute favorite times for styling outfits for and coming up with an autumn capsule wardrobe that's perfect for everyday wear and special occasions throughout the season is exciting and rewarding.
At Miller St. Boutique, we adore uncovering new fashion finds that are perfect for ladies of all ages and sizes! Each of the items in our fall capsule wardrobe are high-quality and designed for you to be able to mix-and-match to create many different looks all-season-long!
Check out our essential, one-of-a-kind boutique clothing and accessories to inspire your most fashionable self this season!
Our Favorite Autumn Capsule Wardrobe Looks!
Find the Perfect Poncho
Classic elegance paired with a modern and luxe design that's oh-so-wearable -- That's how we would describe the perfect fall poncho! Ideal for layering and perfect for both your workplace dress code and fun weekend activities, the perfect poncho should elevate your style without holding you down!
We love that this soft and cozy Boat Neck Knit Poncho hits all the right style notes, all while still being super comfortable! No matter which poncho you choose, the style's voluminous sleeves and A-line design make it perfect for a fall capsule wardrobe because it's ultra-flattering and great for wearing over everything from distressed boutique denim to a lovely fall dress.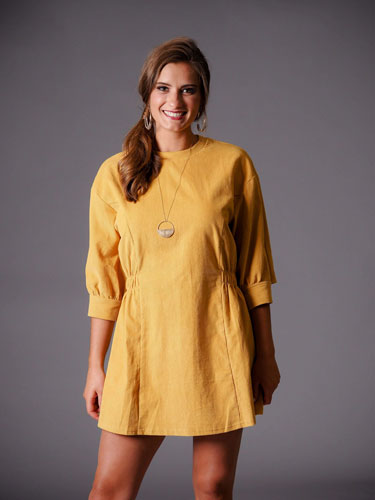 Get Cozy in Corduroy
Corduroy is one of those classic materials that we often forget about and then happily rediscover years later. But there's nothing forgettable about the perfect corduroy dress! Comfortable, flattering, and unique, this style is ideal for fall happenings!
Our autumn capsule wardrobe incorporates a corduroy shift dress that's roomy and chic but cinched just enough at the waist to give you some shape. With any corduroy dress you choose for your fall capsule wardrobe, keep your accessories, and the rest of your ensemble, simple. With the sturdy fit of this longtime adored material and the straight-line fit of a shift design can make quite the statement on its own! Just pair your favorite style with your go-to polished flats, tall boots, or even sassy cutout heels to complete this sophisticated-yet-playful look!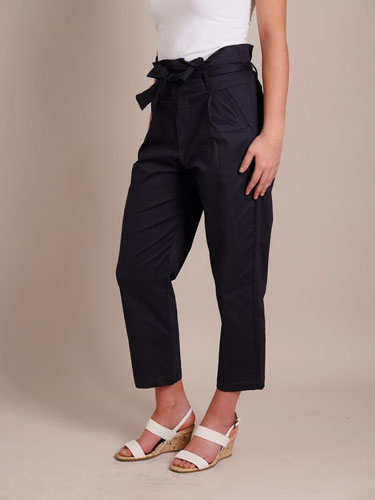 High-Waisted Navy Cotton Pants, $52
Tie it Up with a Bow
No fall capsule wardrobe is complete without some chic pants that go with just about everything. This season, you'll find us rocking the perfect pair of paper bag waist pants that are both professional enough for the workplace and dressy enough for special events.
We love the of this popular high-waisted pant style which features a statement waist tie and delicate pleated detailing that sets these pants apart from your other slacks. We especially love a cropped or ankle-length design; it feels super chic and looks great on everyone!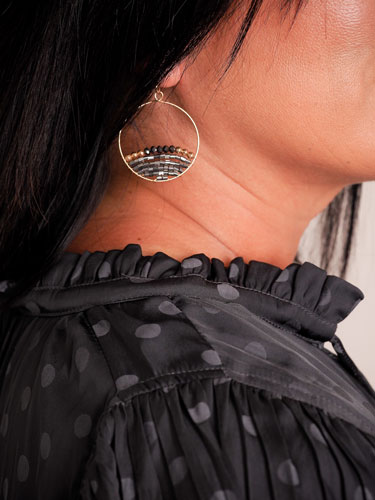 Handsome Hoops
As much as we adore our classic hoop earrings, this season, we're taking some fashion risks and giving more unconventional hoops a try! These fresh designs have a way of making our outfits feel modern and distinctive, something that's super refreshing during this transitional season and the perfect addition to your autumn capsule wardrobe.
Instead of traditional gold and silver, check out hoop styles that feature colorful tortoiseshell prints or delicate beaded details. These pieces are attention-grabbing in the best way and add some interesting texture to your fall capsule wardrobe without being too over the top. They're a great way to spice up an everyday outfit or add a bit of pretty glam on the weekends!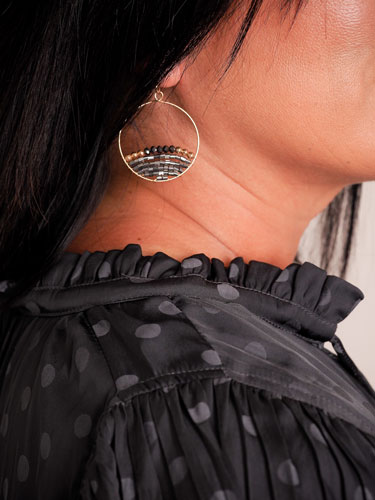 Picture Perfect in Plaid
We can't help but feel the warm and fuzzies when we slip into our favorite plaid attire! This fall, we're living in a super comfortable and gorgeous woven plaid skirt that features an elastic waist and beautiful neutral pattern.
Above-the-knee length skirts that incorporate taupe, black, or blue shades in a unique plaid pattern are perfect for a fall look that feels contemporary and fresh. Wear your skirt high-waisted, paired with a cozy fall sweater or cute blouse. Add some sassy booties and cute jewelry accents to complete this adorable fall look and fall capsule wardrobe essential.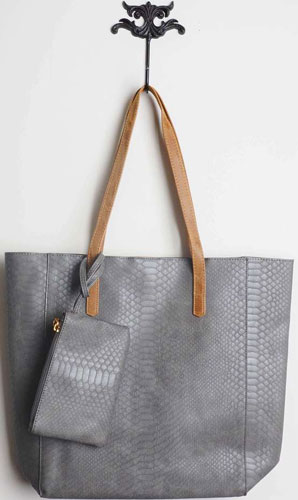 Faux Snakeskin Large Tote in Gray, $63
A Touch of Subtle Snakeskin
No matter what adventures you have planned this fall — whether it be warm family gatherings, an annual road trip, or just your everyday grind, accessories are an important part of any look. We're upgrading our everyday and travel tote bag to a sophisticated option that looks amazing with any look: grey snakeskin.
Faux snakeskin detailing is the absolute perfect way to add a pattern to your ensemble without being too flashy. The texture is so beautiful to look at and makes your bag more interesting and chic than a plain monocolor carryall. We can picture adding this piece to many of our other autumn capsule wardrobe must-haves, and we love the cool tone that the grey color adds as a complement. It's definitely an essential this fall!
Build Your Ideal Fall Capsule Wardrobe
With some of our favorite new styles in mind, it's easy to keep adding to our fall closets with more exciting designs. From the coziest boutique sweaters in a variety of amazing cuts, colors, and patterns to the dreamiest fall boutique dresses and most unique accessories, styling looks that are personalized to you has never been simpler!
Shop more handpicked styles for every woman's shape, size, age, and sense of style in mind at Miller St. Boutique today! Don't forget to check out our Instagram and Facebook to see what's new and upcoming in our collections!