From Cushions to Crop-Tops: Our Favorite Things About Modern Bohemian Style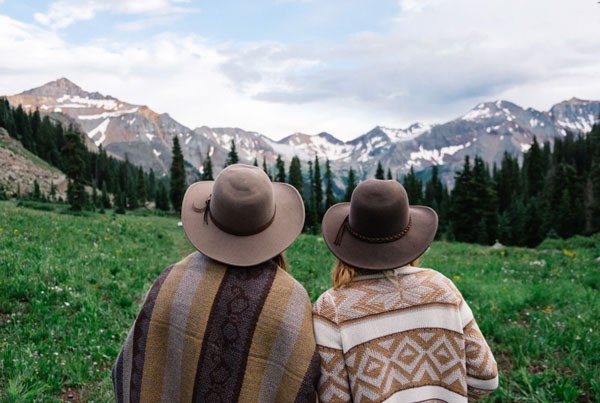 Boho-chic is a modern hippie style that started as a fleeting fashion trend and turned into a full-blown lifestyle. Influenced by the flower children of the '60s and '70s, modern bohemian style breaks free from the mainstream while still maintaining an air of natural, artistic beauty and elegance.
Whether you're heading to a festival or just looking to change up your look, boho-chic fashion is versatile -- not to mention fun and super cute! Check out why we adore boho-chic!
Our Favorite Things About Modern Bohemian Style:
1. Bold Color Combinations
There's just something magical about the color choices used in the modern hippie style. While the hippies of the '60s and '70s were often known for wearing bright, flashy colors, the modern bohemian style trend is a bit more subdued.
Earth tones combined with warm hues like burnt orange, forest green, navy blue, and maroon combine beautifully, creating a striking look that's bold but not over-the-top. Try to avoid overly saturated colors, and don't forget to keep some neutral tones in there too for balance.
2. Comfortable Pieces
Boho-chic fashion is so effortless and cozy. A breezy kimono or poncho can add the perfect touch of carefree-style to any outfit. A big part of modern bohemian style is wearing multiple layers so you stay comfy anywhere—especially at popular outdoor festivals. After all, the modern hippie style is rooted in music and wanderlust culture, so it's no surprise that boho-chic garments are super layerable!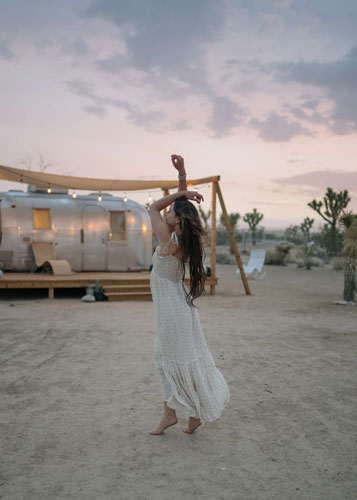 3. Freedom of Expression
There are no rules when it comes to boho-chic fashion. Want to look (and feel) like a goddess? Try adding some unique jewelry like pieces in warm-colored gold. Want to add a more contemporary, city feel to an outfit? A wide-brimmed hat is the perfect touch. The boho-chic style is all about self-expression, so don't feel limited as you put an outfit together. If it feels right, go for it!
4. Accessories
A big part of the modern bohemian style is combining small pieces to create something larger than life. Combine flowy ponchos, scarves, and dainty jewelry to create a unique modern hippie style that's 100% you.
The amazing thing about boho-chic fashion is that there are so many different options when it comes to accessorizing. From ornate boutique necklaces to feather earrings, finding and wearing new pieces is so much fun. Boho-chic jewelry is often too "over-the-top" to wear with traditional outfits, so embracing the boho-chic style fully is a great way to expand your horizons.
5. Shopping for Boho-Chic Pieces Is a Blast
If you consider fashion a hobby, you're going to love hunting down modern hippie style clothes and accessories. The great thing about the look is that you're not limited to traditional clothing stores.
You can explore boutiques, thrift shops, and even yard sales. Shopping for boho-chic clothing online is fun! Create a look in your mind's eye and then hunt down the right pieces to turn your dream into reality. If you're the type of person who loves pushing the envelope, modern bohemian style gives you an incredible canvas to create the perfect, adventurous look.
6. Boho-Chic Makeup Is Easy
Tired of waking up an hour early to do your makeup? Modern hippie style is all about freedom of expression and that means you don't have to conform to society's traditional beauty standards. If you decide to wear makeup at all, some light blush, nude concealer, and natural lip balm are perfect. Of course, you're welcome to wear as much or as little makeup as you want—boho-chic is a lifestyle that's all about individualism.
7. The Cost
Sure, the modern bohemian style can be expensive, but it doesn't have to be! In fact, some of the most gorgeous examples of the modern hippie style are based around thrifted or hand-me-down clothing and accessories. Boho-chic is heavily influenced by counterculture.
In other words, you don't need to spend a fortune on upscale brands to look amazing. Invest in a graphic top that you love and use that as a focal point to build your outfit whether that includes hand-me-down jeans or a designer jacket from your favorite boutique!
8. The Patterns
From psychedelic paisley to ornate ethnic garments, there's something absolutely ethereal about boho-chic designs. Many of them conjure visions of ancient cultures from the other side of the world. The modern hippie style makes you feel like you're part of something larger than fleeting fashion trends.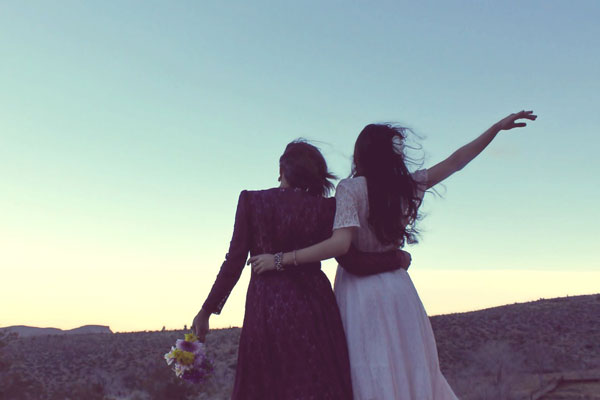 9. Customize Your Outfits
If you're the artistic type, modern bohemian style gives you plenty to work with. Try adding embroidery to a piece for an artistic look or tassels for a western vibe. Beads, studs, and pom-poms are all great additions, too. Again, boho-chic is all about self-expression, so go wild with it!
10. Boho-Chic Is More Than Clothing
While boho-chic is most prominent as a fashion trend, the general aesthetic can illuminate many aspects of your life. For example, boho-chic home decor can transform an ordinary living space into a regal throne room. If you're in love with the modern hippie style like we are, we encourage you to browse our wide selection of boho-chic clothing and home and fashion accessories!
We're All About Modern Boho Style at Miller St. Boutique
The modern bohemian style is much more than a trend—it's a way of life! If you're interested in adding that mystical, free-spirited vibe to your wardrobe and your lifestyle, Miller St. Boutique is here to help! Contact us if you have any questions, and shop our unique clothing selection today to get a great deal on gorgeous boho-chic pieces!