Cute, Farmhouse Inspired Easter Decor Ideas
Rustic Easter decor is wonderful for this time of year—it's a sweet, chic yet low-key way to celebrate the arrival of spring and freshen up your home in time for our favorite spring holiday! Whether you are planning a big brunch filled with family and friends or a cozy Easter Sunday with the immediate family, these unique home decor ideas are sure to inspire and delight. Explore our favorite ways to celebrate Easter with these Easter farmhouse decor tips!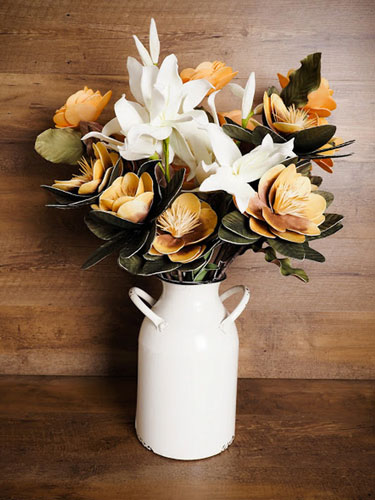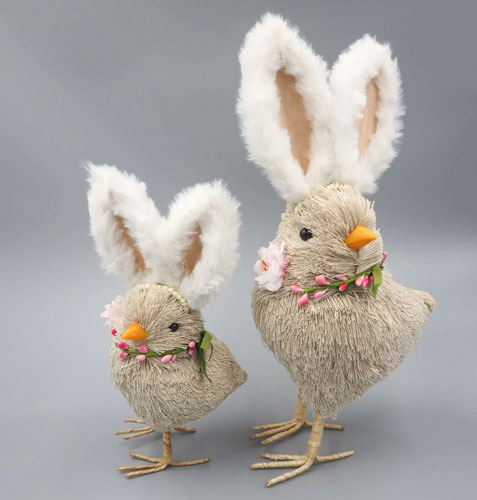 DIY Easter Farmhouse Decor: Make an Easter Egg "Tree"
Because rustic Easter decor is all about the simple and understated, you can forgo the technicolor eggs and elaborate stencils when it comes time to prep your home. Instead, dye your eggs in a few well-chosen earth tones or pastels: we love moss greens, robins egg blue, and lavender for a subtle hint of color. You can even use natural dyes from plants, fruits, and vegetables like beets, blueberries, and cabbage! Attach loops of ribbon to your eggs so you'll be able to hang them, the way you would with Christmas ornaments (here's a handy tutorial for how to do this!)
Then, arrange some sturdy branches in your favorite vessel or vase (we think this artfully distressed milk jug vase is perfect for Easter farmhouse decor) and start hanging your eggs along the branches. Finish off with a surrounding collection of adorable chick figurines and, before you know it, you'll have a stunning centerpiece or a show-stopping DIY decor item to place on an entryway table!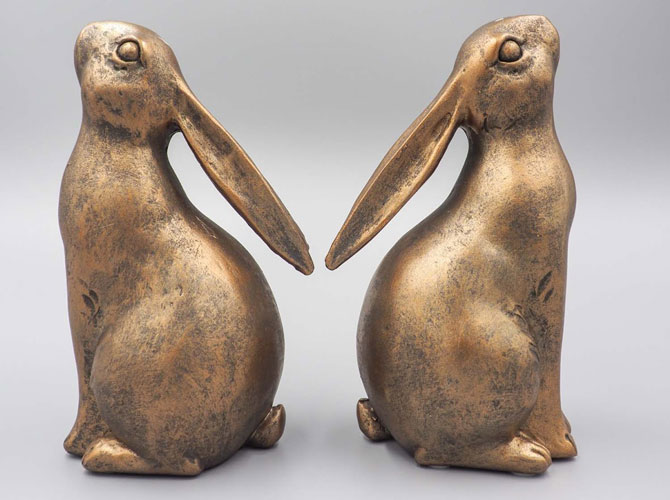 Chic Table Linens (and Centerpieces!)
Springtime is a fantastic opportunity to refresh your table linens and centerpieces whether you plan on entertaining or just cozying up at home. A little goes a long way, but this time of year, you'll want to opt-out of the heavy fabrics and moody jewel tones that got you through winter; instead, seek out lighter materials like cotton in white, cream, and pale pastels. Vintage shops and thrift stores can be amazing resources for textiles—look for pretty embroidered tablecloths and placemats with floral motifs or spring-like colors to capture the rustic Easter decor feeling.
If you're entertaining, it can be a nice time to spruce up your table setting with a new centerpiece. Seasonal home decor in rustic tones like muted metallic and matte cement make for unforgettable table pieces! Look for pieces in seasonal shapes like adorable cement rabbits or bronze-cast chicks to help bring the feel of the season to every meal. A new set of tea towels also makes your kitchen feel inviting, while a pretty and colorful notepad for your fridge will make even the most tedious holiday to-do lists feel a little bit more fun!
Make Your Own Wreath
Greet guests and neighbors with a charming wreath that celebrates the best of Easter and Spring! If you love DIY projects, there are so many amazing ways to adorn your front door and achieve that enviable Easter farmhouse decor effect. Some of our favorite looks include a Flower Seed Packet wreath which celebrates the season's best blooms!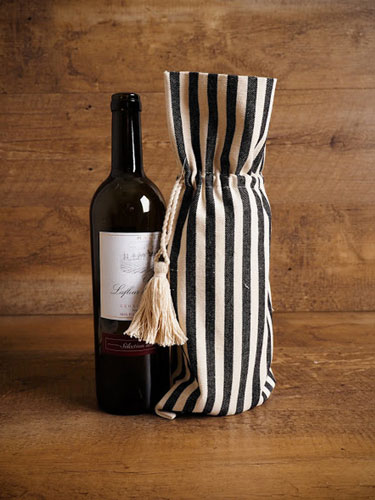 Embrace Stripes
Simple patterns are a staple of Easter farmhouse decor (and 2020's biggest decor trends!), so this season, seek out textiles in pretty stripes that add a little hint of color and that cozy finishing touch. Whether you are staying in or headed to a friend's house, we love this striped cotton wine bag as a pretty way to present a bottle of bubbly for Easter brunch!
Looking for something to give your home a little extra something-something? Rustic bedding in refreshing stripes will add a sense of airiness to any room, while a unique throw blanket or pillow in a striped pattern helps make sofas and chairs pop. Not to mention a simple striped rug can transform and redefine a room (plus, with the warmer weather, it's probably time to trade out those heavier sheepskins and super plush rug styles!)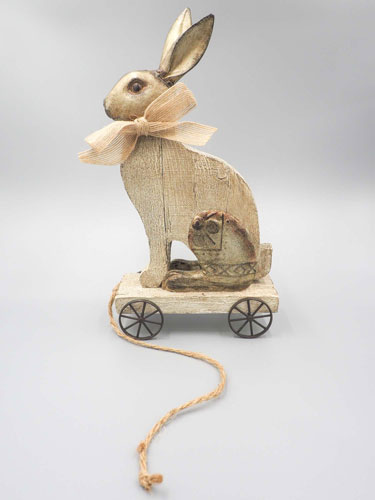 Mason Jars & Rustic Touches
Mason jars are a total must-have when it comes to rustic Easter decor styles, so make the most of it and put those jars to use in every corner of your home! We love using mason jars as a way to set out silverware for buffet-style meals, or they make lovely vases for those fresh-cut flowers from your garden. Leave your mason jars unadorned or embellish them as you see fit by wrapping them with your favorite ribbon, pieces of burlap, or twine. If you like a little more polish to your rustic Easter decor, you can also opt for something like these sweet jute tied glass bottles for the right combination of elegance and homey charm.
Easter farmhouse decor is all about emphasizing the rustic. Pair your mason jars with other vintage touches like heirloom family tea plates or intricately carved wooden pieces-- like this wooden rabbit pull toy! -- to bring a homey but chic aesthetic to your Easter decorating!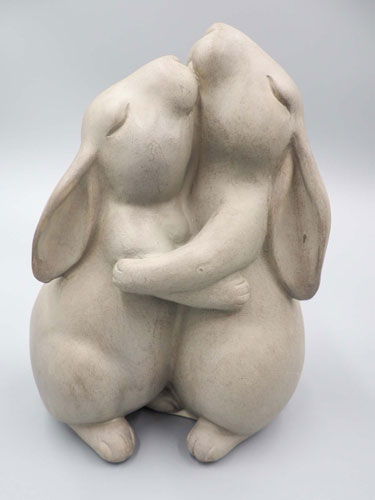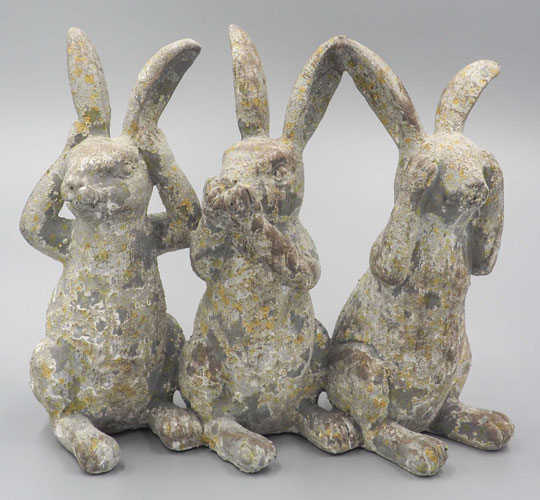 Prep Your Outdoor Spaces
Chances are that spring is starting to show up by the time Easter rolls around, and what better way to embrace the warmer weather and longer days than by investing some time in your yard and outdoor spaces? It only takes a few small choices to transform a deck, patio, or porch into a haven where you can enjoy that morning coffee or evening cocktail.
Set the mood with ambient lighting—and get that rustic Easter decor style!—with country-chic tin lanterns that can hold your favorite outdoor candles. We love clustering a few together with concrete figurines in adorable seasonal castings for a sophisticated seasonal look.
Find Unique Home Goods at Miller St. Boutique
At Miller St. Boutique, we stock all the cute home accessories items you need all year round! Our owners hand-select every item in our store to ensure you have a carefully curated selection of pieces designed to bring you joy or make the perfect present for someone you love. In addition to our home goods, we also offer a selection of cute and size-inclusive unique women's clothing, boutique jewelry, and more. Shop our New Arrivals today to see the latest additions and cutest Easter farmhouse decor added to our store!