5 Cute Winter Sweaters for Every Woman in Your Life
Cute winter sweaters are a fantastic gift for your favorite ladies this holiday season. But with so many options, how do you choose the perfect sweater for your friends and loved ones? As a trusted source for cool, comfortable, and chic women's fashions, we've got the rundown on all of the best sweater styles to snap up this holiday season! Read more about some of our favorite cute affordable sweaters to give (and receive!) at Miller St. Boutique!
Our Favorite Cute & Affordable Sweater Styles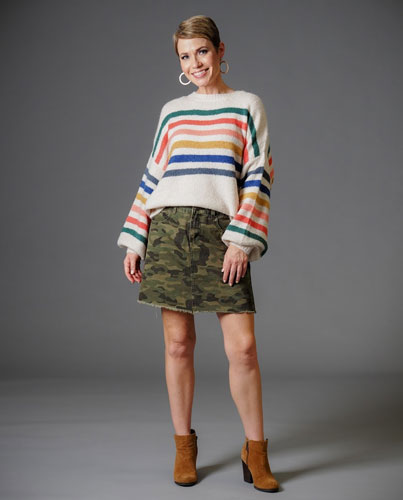 Bold Stripes
This striped sweater checks off all the right boxes when it comes to what we look for in cute winter sweaters: a pattern that is classic but never boring, a good dose of color that doesn't overwhelm, and simple yet flattering shape that looks great on everyone. With this particular sweater style, the high neck and soft but colorful details, make this a versatile and fashion-savvy choice that will still stand the test of time, so she can enjoy it for many years to come.
Similar Styles: Want the lowdown on other cute, affordable sweaters in similar styles? If you like this look for someone on your list, you should also consider our slightly 70s inspired multicolor striped knit or a dip-dye sweater that also offers a fun dose of color (and flirty show of skin!)
Perfect Pairings:
A pair of boutique jeans make the ideal companion to a cute winter sweater for a casual weekend look. If she wants to dress things up, consider a pair of pretty gemstone drop earrings to add instant polish.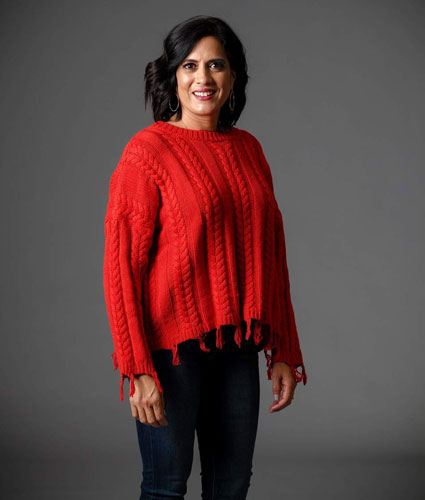 Cute Cable Knit
For the lover of preppy, put-together looks, you can't go wrong with a timeless cable knit sweater. What do we love about cable knits? Mostly that they are cute, affordable sweaters that still convey a feeling of luxury and classic style, and they're a great fit for all ages. With this particular style, we simply can't get enough of the fun frayed hem which adds a slightly modern twist -- and who couldn't use a lovely dose of red to cheer up their winter wardrobe?
Similar Styles: This soft gray sweater is a slightly looser interpretation of the traditional cable knit which creates a slightly more bohemian feel. Plus, she can pair it with her favorite tank or bralette to add a contrasting color. A multicolor knit sweater is also a nice choice for the ladies on your list who might enjoy a simple but cute winter sweater with an interesting texture.
Perfect Pairings
Complete the look with an elegant belted skirt to create an amazing work-ready outfit that will easily go from day to night. Boutique handbags make for a charming accessory with plenty of practical details like separate compartments and adjustable shoulder and wristlet straps.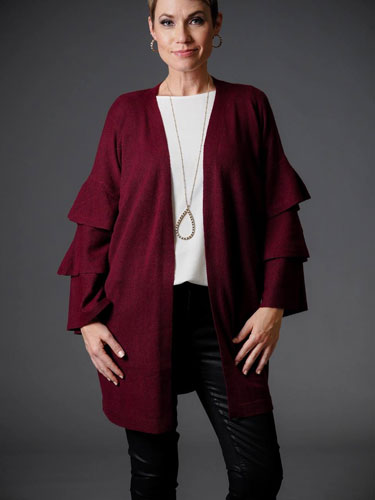 A Fashion-Forward Cardigan
For the fashion maven, our ruffled cardigan is one of those cute winter sweaters with unexpected details to help her stand out from the crowd. She'll love the length and the three-tiered sleeves that look chic while also keeping her warm through these cold winter months.
Similar Styles
If she loves the long, drapey styling here, other cute affordable sweaters for her include our white asymmetrical cardigan. If she's the type who can't get enough of feminine details, a ruffled blouse is a perfect accent to a chic but stylish girly outfit.
Perfect Pairings
This longline cardigan looks fabulous when partnered with a unique, long necklace, as one of our pretty pendant styles. For a super chic monochromatic look, she can wear this sweater with a pair of high-waisted pants and a cute top for women.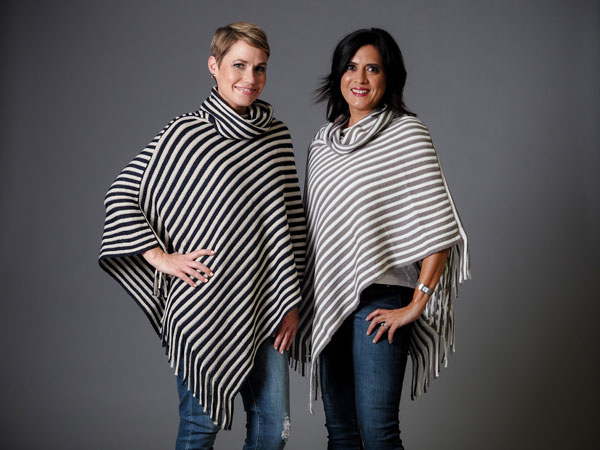 The Sophisticated Poncho
When it comes to cute winter sweaters, a poncho is an amazing gift! The latest ponchos are totally chic, while still remaining one of the comfiest sweater styles out there. We love this poncho in navy and cream or taupe and cream as the ideal way to keep the chills away. Plus, these sweaters are an easy, one-size-fits-most gift that takes the guesswork out of trying to figure out the right size!
Similar Styles
If you're looking for versatile, easy-to-wear cute affordable sweaters, a wrap style is a great alternative to a poncho. For something a little dressier and that would be lovely for both daytime and evenings out, this pearl-studded poncho is sure to delight.
Perfect Pairings
Help her layer in style with a soft tee that she can wear as a part of her new winter-weather outfit.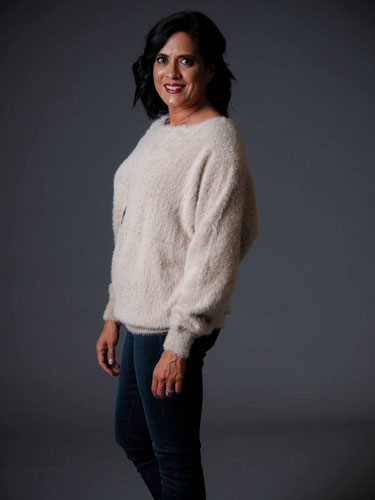 A Cozy Pullover
For the easy-going lady in your life, consider a cozy-yet-cool pullover sweater that works well with everything in her wardrobe. We offer lots of cute winter sweaters in fuzzy styles that feel like a warm hug—like this super-soft option in a universally flattering pink-taupe hue!
Similar Styles
If you think she'll love the ease of a pullover and craves comfy textures, you should also check out this bright pink popcorn sweater! Another sweet take: an eyelash drop shoulder sweater that has a slightly flirty edge.
Perfect Pairings
Get her a unique accessory that can go everywhere, with everything, like a cool Oak River bag. Think she'll want to add some sparkle to dress up her cute winter sweaters? Consider a unique ring in styles she can mix-and-match!
Shop Unique Gifts at Miller St. Boutique
Miller St. Boutique is home to one-of-a-kind boutique clothing, like our cute affordable sweaters, and other unique gifts so you can find something for everyone on your shopping list! Explore our New Arrivals online, or stop by our Fairfield, Ohio, brick-and-mortar store to see our latest offerings! Don't forget to catch us live on Facebook every Tuesday for exclusive looks at new styles, deals, and giveaways!