5 Cute and Curvy Plus Size Outfit Ideas for the Dog Days of Summer
The dog days of summer are the hottest, most humid, and sultry days of the season. This is the time to wear your light-weight clothing and just relax with a glass of lemonade or a spiked seltzer. When you're not hanging out at the beach, lake, or pool, finding the perfect curvy women's clothing to keep you cool and stylish can be tricky. Here are a few of our plus size summer outfit ideas for curvy shapes that will make you look amazing!
Off-the-Shoulder Shirts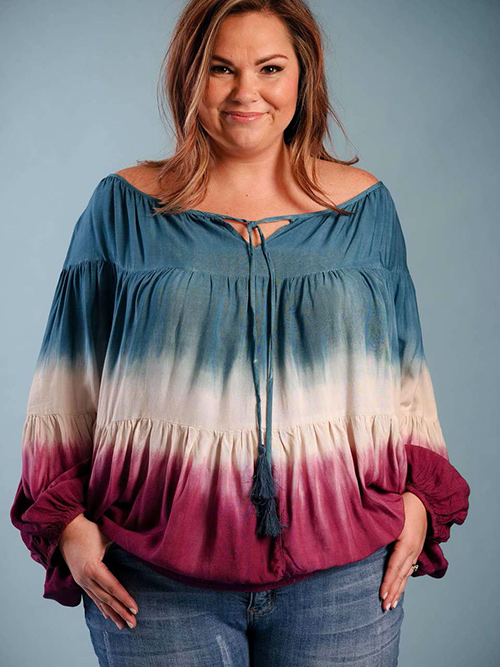 Blouse with Tied Boat Neck ($52)
Off-the-shoulder shirts are a trendy way to show some skin this season! You can find them completely bare shoulder or with added spaghetti straps to help keep your shirt in place as you take part in fun summer activities. Bare-shoulder shirts with cinched and elastic top hems are also a great option. Of course, pale, light colors are the key to choosing summer outfits for curvy shapes, as they don't absorb as much of the sun's rays and stay cooler compared to dark colors. We recommend cute tops for women in white, red, fuchsia, or even orange.
Pair your off-shoulder tops with all sorts of bottoms to complete plus size summer outfits that will really turn heads. Try matching them with boutique skirts and shorts of any length. You could also go with some loose, relaxed-fit pants, but be sure to choose something that is lightweight and breathable, or you may find yourself getting hot when walking around in the summer sun.
Flowy Blouses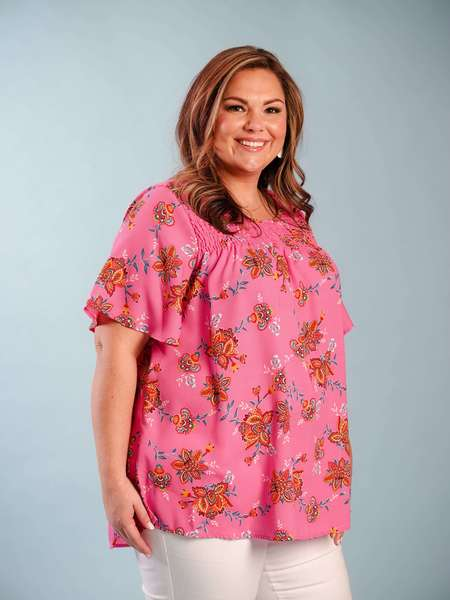 Pink & Floral Printed Blouse ($38)
We're all susceptible to sweating up a storm during humid days, and skin-tight, clingy clothing just isn't comfortable. Blouses that are loose and flowy will give your skin room to breathe, while also flattering your shape and raising your confidence level. Flowy blouses are also appropriate for all sorts of occasions. In the middle of summer, you may find yourself attending BBQs, family gatherings, weddings, baby showers, birthday parties, and other special events.
Blouses are great plus size summer outfit ideas for curvy shapes because you can find them with cute patterns, embroidery, and fancy embellishments that elevate the style and make them completely acceptable for dressing up. When the occasion calls for extra class, pair your blouse with a long skirt or dress pants and some fancy sandals. Adding delicate jewelry and unique handbags will also give your outfit flare and sparkle.
Dresses that Flatter Your Shape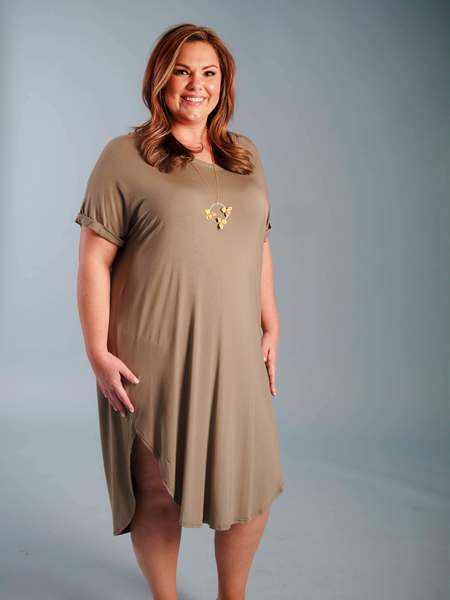 Drop Shoulder Dress ($36)
Deep-v's, u-necks, scoop necks, and dresses with form-fitting tops are great plus size summer outfit ideas that will help you accentuate your lovely curves. Combine these cuts with an a-line or pleated bottom, and you've got a winning dress design that will look amazing and help keep you cool from the office to date night with that special someone.
Low neck cuts are always perfect to pair with centerpiece necklaces that feature pendants. It will help draw the attention where you want it! Go simple and add a pair of flip flops or cute strappy sandals to complete your look.
Pleated Skirts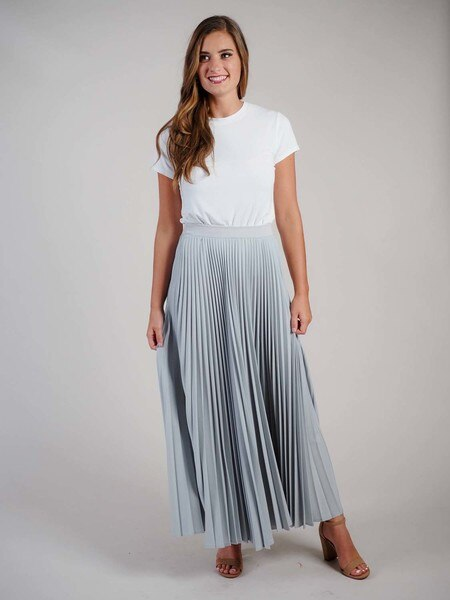 Pleated Skirt in Silver ($63)
Pleated skirts are super easy to pair with almost any type of top. You can go totally casual with tanks and graphic tees or class it up with a blouse. The flowy style will let you move easily for a summer evening of dancing at the club or a stroll down the boardwalk. Add some adorable heels, and you'll have a super cute plus size summer outfit idea for curvy shapes that will have you ready to party it up on a Friday or Saturday night!
Browse Miller St. Boutique for more cute plus size summer outfit ideas for the hottest days of summer. And check for new curvy styles of trendy layers that can transition you into the cooler nights as fall approaches.